▶ ▶
▶

Whats New! JEWISH ACTUAL NEWS
Arutz Sheva TV
kedar en
13.08.2015 http://www.israelnationalnews.com
Live@5: Conflict Irresolution
11.08.2015 Tolerance, claims of rising racism and the daylight between Israel and America over Iran are the topics discussed by today's Live@5 panel. First, a debate over whether Israeli society as a whole is implicated in the violent actions of a few. The panel discusses whether intolerance is an endemic issue, or if Israel is a beacon of human rights. Then, the panel responds to President Reuven Rivlin's comment that, "Israeli society has failed to confront its own intolerance." Knesset insider Jeremy Saltan is given the opportunity to respond to the questions he was not given the time to answer on his recent interview with Al Jazeera. Next, the panel breaks down the hypocritical racism at the heart of Haaretz columnist Gideon Levy's claim that hate crimes are a widespread issue among specific sectors in Israel. Finally, the panel raises two contrasting statements. The first, US Energy Secretary Ernest Moniz's assertion that he would support the Iran agreement if he were Israeli. The second, the response of his Israeli counterpart, MK Yuval Steinitz, that — if he were an American — he would do everything to stop the deal. The panelists express their concerns that these disparate comments are indicative of deeper issues between the allies.
You Won't Believe How Many People Are Anti-Semitic
"The Anti-Defamation League (ADL) today released the results of an unprecedented worldwide survey of anti-Semitic attitudes. The ADL Global 100: An Index of Anti-Semitism surveyed 53,100 adults in 102 countries and territories in an effort to establish, for the first time, a comprehensive data-based research survey of the level and intensity of anti-Jewish sentiment across the world.
▶ ▶
▶Whats New! Simcha - Jewish Music
Simcha channel
החזן ג'ק חמרה בלווי מקהלת הילדים - חופה בשערי ציון 2015
12.08.2015 ערוץ המוסיקה המזרחית קלאסית של המוסיקאי אריאל כהן
דניאל אהרונוב,,▶ ▶ ▶more videos in this playlist ,
תזמורת המנגנים | Hamenagnim Orchestra ,,▶ ▶ ▶more videos in this playlist ,
דער חזן - נפתלי הרשטיק The Cantor- Naftali Hershtik
09.08.2015 דרך סיפורו האישי של החזן נפתלי הרשטיק, דור 13 לחזנים, במפגש מלבב עם בנו ונכדו, נפרס העולם המורכב והמיוחד של החזנות - המתח שבין הוירטואוזיות לתפילה האינטימית-החזן ובעל התפילה. הרצון לשמר את הנוסח מהעולם הישן לצד הצורך בהתחדשות. השליחות הגדולה של נפתלי הרשטיק - חזן מודרני מהעולם הישן, שמקדיש את חייו לשימור הנוסח והתרבות החזנית. במאי: יוחאי רוזנברג מתוך הסדרה "רואים את הקולות" לזכרה של גב' גרטרוד קוהן בהפקת אתר הזמנה לפיוט © כל הזכויות שמורות לאתר הזמנה לפיוט לצפיה בסרטונים נוספים: אתר הזמנה לפיוט www.piyut.org.il
Yedidim singing Eli Beer - Feat. Menachem Moskowitz - ידידים ומנחם מוסקוביץ שרים אלי ביר
10.08.2015 Yedidim Choir is proud to present to you two hit songs from the latest Eli Beer album, the first one is a happy sing along tune with the title "Meilich's Nigun" followed by "Horachamon" a real Kumzitz Classic. Music and production by the multi talented Avrumi Berko. ABerko Production Soloist: Menachem Moskowitz Guitar: Motty Feldman Violin: Stanislav Sound: Yossi Rosenberg Video: Neumann Media Mixed: Tzvi Blumenfeld @ Blue Rhythm Studio
▶ ▶
▶Whats New! 24Jewish Recipes videos
High Holiday Recipes
▶ ▶ ▶more videos in this playlist
▶ ▶
▶Whats New! 24Jewish funny videos
All's fair in love and (water) war!
13.08.2015 Once a summer in Tel Aviv, you may beat the heat by getting out your bottles and water guns supplied with water flowing from a recycled water fountain on Habima square in Tel Aviv's city centre.
▶ ▶
▶

Whats New! JEWISH LIFE
Closing Shop
11.08.2015 Ami Pykovski, the proprietor of a large clothing store in downtown Los Angeles, found himself grappling with the idea of closing his store on Shabbos. Torn between his business and a growing commitment to Judaism, he decided to write to the Rebbe. (1980s)
Never to Late to Immigrate
13.08.2015 http://www.israelnationalnews.com
▶ ▶
▶

Whats New! LA VIE JUIVE
jerusalemplus tv
Moins d'enfants, plus d'argent ?
12.08.2015
ISRAEL DANS TOUT SES ETATS
12.08.2015
Un cheikh radical sunnite arrêté au Liban, alors qu'il s'apprêtait à quitter le pays sous une…
15.08.2015 Il s'apprêtait, muni d'un faux passeport, à quitter le pays. Direction l'Egypte. Il avait pour cela rasé sa barbe volumineuse. Les services de sécurité libanais ont arrêté samedi matin, sur la route de l'aéroport de Beyrouth, un homme qu'ils recherchaient activement, Ahmad al-Assir, un cheikh radical sunnite jugé par contumace l'an dernier.
▶ ▶
▶

Whats New! JÜDISCHE NACHRICHTEN
Israel Heute
Sonderausstellung »Haut ab!« – Zu einer Beschneidungsbank
»Haut ab! Haltungen zur rituellen Beschneidung« Sonderausstellung vom 24. Oktober 2014 bis 1. März 2015 Zu einer Beschneidungsbank
Jüdische Musik ▶ ▶ ▶more videos in this playlist
▶ ▶
▶

Whats New! JEWISH COMMUNITIES
https://en.wikipedia.org/wiki/Ivanka_Trump
An Interview with Ivanka Trump
Ivanka shares her secrets to maintaining her focus and creativity Subscribe to the HuffPost Today: http://goo.gl/xW6HG
Ivanka Trump on her father, husband and daughter. The View 12.03.2012
Ivanka Trump talks to the ladies about her father, marriage and motherhood. December 3, 2012
▶ ▶
▶

Whats New! JEWISH CULTURE
חנן בן ארי
13.08.2015 http://www.israelnationalnews.com
BBC My Life, My Religion 4 Judaism
25.04.2015 Judaism - My Life, My Religion Episode 4 of 5 - What does it mean to be Jewish? 11-year-old Charlie explains his religion of Judaism in this Learning Zone programme for primary school children. Charlie is sports mad and thinks the best thing about being Jewish is the food. His family belong to an orthodox synagogue in Manchester. He tries his best to follow the rules of Shabbat, the weekly Jewish day of rest, but admits it can be tempting to switch on his phone and TV. When it comes to the Jewish new year, Rosh Hashanah, he reveals how it feels to be judged by God. 13-year-old Me-Me, short for Amelia, invites the cameras in to her bat mitzvah rehearsal at her Reform synagogue as she prepares to become a Jewish adult. How will she feel about this new chapter of her life? Meanwhile, ten-year-old Solly and his family recreate Passover Seder night, to remember how the Israelites eventually left slavery in Egypt. Later in the year, he makes traditional Latkas with his mum to celebrate the Jewish Festival of Chanukah. My Life, My Religion: Judaism is one of a series of programmes aimed at Key Stage 2 Religious Studies
Human Interaction = A Nuclear Impact
14.08.2015 Overwhelmed by mounting questions about his work in the rabbinate and Jewish outreach, as well as in his business, Rabbi David Lapin sought advice from the Rebbe.
חנן בן ארי
▶ ▶ ▶more videos in this playlist
▶ ▶
▶

Whats New! JEWISH HISTORY
Jewish History Rabbi Berel Wein
Uzi Dayan on Sabena Movie
13.08.2015 http://www.israelnationalnews.com
Ex-Prisoner of Zion: I 'Enjoyed' Force Feeding
11.08.2015 http://www.israelnationalnews.com
▶ ▶
▶ ▶

Whats New! THIS DAY IN JEWISH HISTORY
Chabad Buys Its Landmark New York Home Haaretz This one is in Ramat Shlomo, Jerusalem.Daniel Bar-On. This day in Jewish history, 1920 Lubavitcher rabbi who met with Freud dies ... held to commemorate important dates in Lubavitch history -- has grown substantially. ... Today, Chabad remains without a successor rebbe to Menachem Mendel. And at ...
Chabad house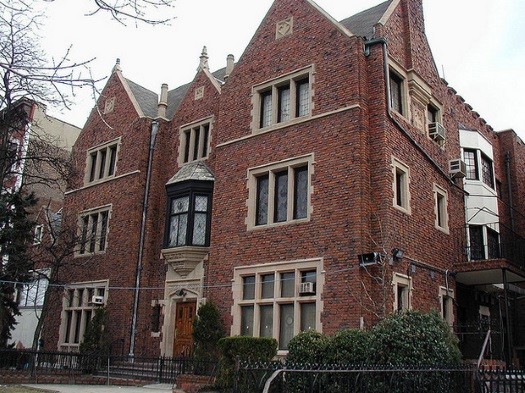 Foto crownheights.info
770 Named 'Unofficial' Brooklyn Landmark
http://crownheights.info/chabad-news/480925/770-named-unofficial-brooklyn-landmark/ From Wikipedia, A Chabad house is a centre for disseminating Traditional Judaism by the Chabad movement. Chabad Houses are run by a ChabadShaliach (emissary), his wife and family. They are located in cities and on or near college campuses. The first Chabad house for university students was opened in March 1969 at the University of California, Los Angeles by RabbiShlomo Cunin. Cunin had been sent to Los Angeles in 1965 by Rabbi Menachem Mendel Schneerson to lay the groundwork for the organization's West Coast activities.[1] In 1972 Cunin opened additional Chabad houses at the University of California, Berkeley andUniversity of California, San Diego.[2] By 2003, Cunin had overseen the establishment of nearly 100 Chabad houses in California.[1] In a Chabad house, the Shaliach and Shalucha (rabbi and his wife) host programs, activities, and services for the local Jewish community and for tourists.[3] read more ..... https://en.wikipedia.org/wiki/Chabad_house
My 770 Chabad Lubavitcher Rebbe
Beautiful old video written, composed and performed by David Suissa (Chabad of Pacific Palisades). Music by Dan Radlauer. Background Vocals by Daniel Suissa. In honor of the Rebbe. I really don't know much about this video (in terms of where it comes from, etc). I'm a UConn student and I found this old video in my brother's video collection so I thought it would be nice to share.
Tzama Lecha Nafshe Rebbe Chabad Lubavitch
http://www.apple770.com Tzama Lecha Nafshe Rebbe Chabad Lubavitch Mendy Pellin ChabadTube Torah Rabbi Jewish
770 Eastern Parkway
Chabad Shiluchim Annual Photo Op At 770 Eastern Pkwy
NNNN
▶ ▶
▶

Whats New! CHASSIDUS
Daf Yomi Rabbi Dov Linzer Yeshivat Chovevei Torah Rabbinical School
בקשות של שבת בנוסח יהודי חלאב - א: אל מסתתר & למענך
EL MISTATER - LEMAANECHA
RABINO ITZJAK GINSBURGH ,Gal Einai en Español desde Israel
Kupat Ha'ir is the largest volunteer based charity fund supported by Jews worldwide. Kupat Ha'ir is the lifeline for thousands of needy. With offices in Israel, the U.S., Canada http://www.kupat.org